Ideas for Unusual Wedding Transport
Posted by:
Admin
Tags:
wedding, transport, vehicles, reception, tractor
Posted date:
05-01-2023
What are some ideas for unusual wedding transport? From horse and carriage to tractor, we look at some unusual wedding transportation ideas for your special day.
When You Need Wedding Transportation
You'll likely need a vehicle or wedding transport to take you to and from your event. Assess how many guests you wish to provide for, the style of your chosen vehicles or cars, and the distance between the reception and church venues.
Wedding transportation often needs to be taken care of within your budget when you have a larger party or attendees from out of town. It is a perfect investment for stunning photo opportunities.
Who Needs Wedding Transportation?
Wedding Party:
You and your partner will need the most efficient way to transport to and from the venue to the reception.
However, there's no harm in hiring vehicles for your wedding guests, such as the bridal party, groomsmen, parents and immediate family, if you can afford to do so.
If you have guests coming to your wedding from out of town, it is kind to offer to pay and provide their transportation or hotel accommodation close to the wedding ceremony venue or the reception.
Average Cost of Wedding Transportation
The average cost of wedding transportation all depends on the number of guests you're dealing with and the style of transport you wish to purchase.
Small limousines may cost you around £190-£230 to rent for events; however, a stretched limo that can seat anywhere from 12, 14, or 20 guests can cost around £450 and more. With most fleet companies, you'll find they have an hour minimum limit; if you go over, the costs ramp up.
Shuttle buses can vary widely depending on the style and the expected hours needed; the costs can start from £665. The more fun and extreme your on or offbeat choices get to turn heads on your special day, such as helicopters, etc., the higher cost you can expect to pay.

Unusual Wedding Transportation Ideas For Your Special Day
There are so many unusual, quirky wedding transport options to arrive in style at your wedding venue or reception to choose from that will impress your guests and enhance the atmosphere.
Horse and Carriage
A horse and carriage is arguably the most common, romantic wedding transportation choice out there, making you and your partner feel like royalty on your big day.
Party Bus
The party bus is one of the most familiar types of wedding transport services available on the market, all of which can be tailored and personalised to the theme of your wedding and chosen aesthetic.
Motorcycle
Motorcycles are a thrilling and edgy alternative for unique wedding cars and are best suited to couples or wedding themes that incorporate punk or metal aesthetics or perhaps a cool reception venue based in the desert.
Taxi
For any couple intending to exchange their vows inside a courthouse or a registrar's office in the city centre, the most sensible and logical mode of transport may be a taxi. We highly recommend opting for a yellow-checkered design that reflects the typical New York City taxi we're all familiar with seeing in films or one that perfectly suits your wedding colour scheme.
Vespa
We encourage you to travel in timeless style on your wedding day to impress your guests, and the best way to do so is by riding a Vespa. If either partner is sporting a gorgeous tea-length dress or shorter for your special day, we highly recommend this comfortable mode of transport to the venue or reception.
It's equally fitting for those with destination weddings or those who may be off travelling through European open roads on their honeymoon.
Trolley
Suppose you and your partner are searching for a broad range of options that will adequately cover the entire transportation for your wedding guests; trollies are an excellent option. We highly recommend the perfect wedding vehicle rental of a trolley with a quirky modern flair or a Victorian style to spice up the aesthetic.
Tractor
The ideal unique wedding transport for a rustic country wedding is a high-quality tractor that you and your partner can ride away across rough terrain and mud without dirtying your bride's beautifully designed dresses or tailored suits. Feel free to decorate the back of your tractor with tin cans and theme streamers.
Sailboat
Sailboats are a wise transportation decision for those who favour a more nautical-themed ceremony. They will allow you to incorporate beautiful views of lakes or coastlines for you and your customers to enjoy on their fancy rides.
Golf Cart
For those wishing to tie the knot with their partner at an extravagant country club, a golf cart is one of the most obvious ways to arrive in style at the venue. It's also an excellent method of transport for those who prioritise environmentally friendly sources, as golf carts don't run on petrol or gasoline.
Limousine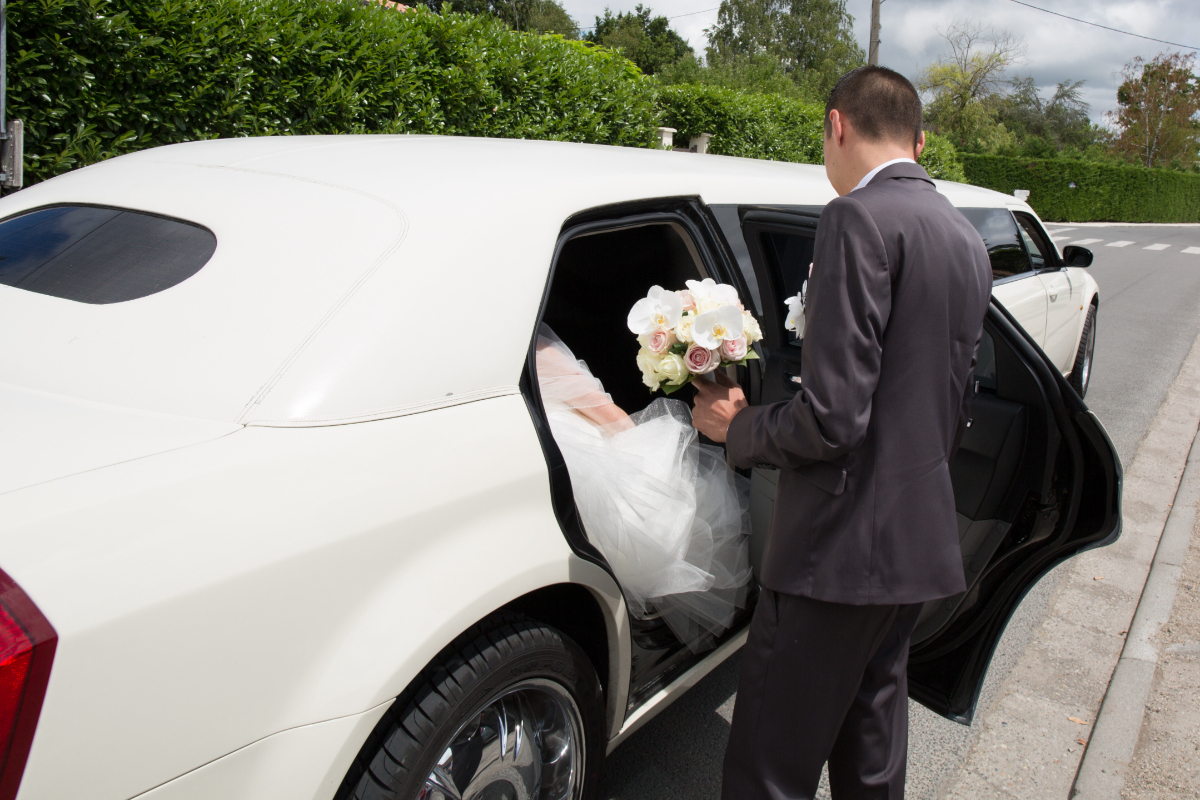 A wedding limousine is a perfect way to add a glamorous, romantic air to your day to bring all your luxurious dreams to life. A typical limo rental for a wedding usually holds twenty or fewer of your guests, so it's better to start thinking about who you'd like to arrive with.
Segway
For those looking for a transportation replacement on the more ultra-modern side for your wedding, a segway is an excellent preference that will leave a long-lasting impression on your guests.
Tandem Bicycle
You and your partner don't have to spend insane amounts of money on transportation to enjoy your day. A tandem bicycle is a relatively cheap alternative that you can artfully decorate and place your wedding bouquet inside the basket for a beautiful ride to your destination.
Double Decker Bus
Choosing a double-decker or school bus is an excellent, everyday yet unusual decision to get all your guests talking. One of the most iconic symbols of London, so if you and your partner are major tourists or have a deep love for the city and its familiar aesthetics, you may hire one, complete with the arrival of a uniformed conductor for you and all your guests.
Lorry
Arriving at your wedding in a lorry is one of the most unique ways to make an entrance, with a basic enough design to easily be personalised to suit the theme of your wedding day or your collective interests. It is perfect for diesel heads and those passionate about suppliers of large parade vehicles.
Bicycle
Bikes aren't the most practical of vehicles to travel to and from your wedding, especially if one of you is in an extravagant gown or the terrain is rough or muddy. However, a stylish bike painted to match the colour scheme of your wedding will make for fantastic, trendy photo opportunities that will help capture the happiness and playfulness of the couple.
Pickup Truck
The pickup truck is a classic American vehicle, perfect for a more casual, down-to-earth theme or a rodeo-style wedding event. It's also the most helpful vehicle to throw your luggage into the back of and driveway away, waving to your guests as you set off for your honeymoon. These trucks can be decorated according to the style or theme of your special day, with metal cans trailing behind to capture all the attention.
Vintage VW Camper van
VW campers will always make the list of wedding transportation, as they are the perfect ride for a bohemian, hippie-style wedding. For those with a more 60s/70s aesthetic, an old campervan is a stylish and totally awesome way to travel to your destination drinking champagne.
Morris Minor
One of the most quintessentially British modes of transport has to be the Morris Minor. It's a luxury car with such incredible character and an amazing vintage style that makes it such a popular and perfect choice for various car enthusiasts on their wedding day. When decorated with flowers, it makes for the most stunning pictures you'll cherish for many years.
Skateboard
The skateboard is a relatively uncommon and unique choice, making it so memorable. Turning up to your wedding venue or reception on personally decorated skateboards of your choice would be a truly 'Rock n' Roll' way to make an entrance.
---
If you are planning a wedding in Essex or the surrounding areas, we provide horse drawn carriages for just such occasions.
We offer horse and carriage hire in Essex London. Visit our site to book your wedding transport hire.